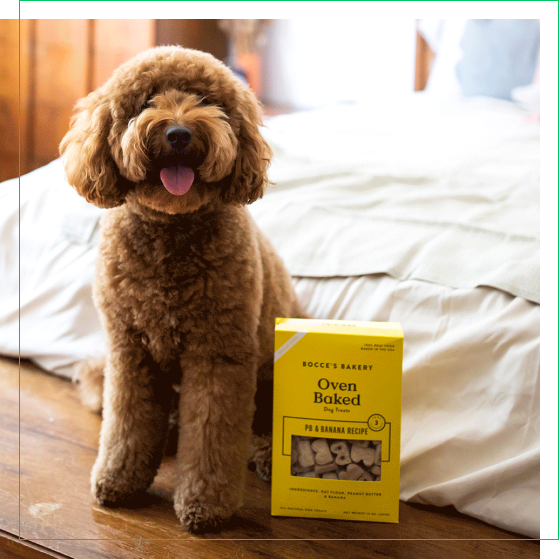 Our Story
Bocce's started in a tiny NYC kitchen with a mixer, an oven, and a scruffy mutt named Bocce, with the belief that our pets deserve better. Better food with fresher, simpler, all-natural ingredients.
Meet Bocce
Bocce is a scruffy mutt with one crazy hairdo and a tail that won't stop wagging. At a vet checkup, Bocce was told he was carrying a few extra pounds. Oh my!

so, we got cooking
When looking at what he was eating, we were shocked by the amount of preservatives and ingredients that we had never heard of in his food… and treats. We decided to make a change. We combined a love of cooking using fresh, seasonal ingredients, with Bocce's love of biscuits — Bocce's Bakery was born!
WE SHARED THE LOVE
We started to bake and bake, and we grew and grew — and now we even bake for cats, too! Our kitchens are now bigger, but our batches are still small and our ingredients are still the best. We are committed to making a change in the pet space by proving that simple is better.
OH... P.S.
We still believe that better treats are made with better ingredients, that long ingredient lists make no sense, that caring should be simple… oh, and that treating should be FUN!
We're big fans of Bocce's Treats because they are made with
all-natural ingredients! They
smell & taste amazing!
Jag & Jerry